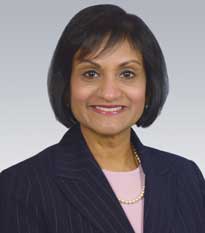 SHOBA RAJANAHALLY
President
Inland Risk and Insurance Management Services, Inc.
Shoba Rajanahally is the president of Inland Risk and Insurance Management Services, Inc., (IRIM). Shoba began her career at Inland as an independent Insurance Consultant in 1994 and subsequently joined the company in 1996 as a Senior Risk Analyst. She was promoted to President of IRIM in 2006 and currently oversees the risk management operations which provide consultation, insurance procurement, claims management and administrative services as required by the Inland entities. Shoba and her team successfully managed an association captive for 5 Inland sponsored REITs that encompassed diversified real estate assets in excess of $25 billion over the course of 10 years. Currently, her team manages the risks of a bank holding company, land and condo development companies, construction entities, property management companies, and tax-deferred property exchanges. Along with servicing the entities, Shoba in conjunction with the senior risk team members, identifies and evaluates the risk exposures, and actively markets the property/casualty, medical/dental benefits, worker's compensation, directors and officers, fidelity, and E&O insurance.
Prior to joining Inland, Shoba was an Independent Consultant and worked on projects for AAR, Centel, and Sears Mortgage Corporation. Her career in real estate began in 1986 when she worked at Balcor as a risk management analyst. Shoba holds an Associate Risk Management designation (ARM) and is a licensed property/casualty and life/health producer. She obtained her Master of Business Administration degree from Loyola University of Chicago and Bachelor of Arts degree in Economics from the University of Chicago. Shoba is an active member and mentor of RIMS (Risk and Insurance Management Society, Inc.) and serves on the RIMS National Nominating and Governance Committee. She is a strong believer in the benefits of mentoring and is involved with the Education Committee that works with students and rising risk professionals. Shoba is also a member of the Women's Initiative Network at Inland, a structured program that offers educational opportunities and career advice for employees. She has also been an active member of the Chubb Real Estate and Hospitality Advisory Board since its inception as well as AIG's Client Advisory Board in past years.