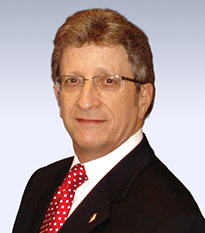 ROBERT H. BAUM
Vice Chairman, Executive Vice President & General Counsel
The Inland Real Estate Group, LLC
Current Responsibilities
Robert H. Baum has been with The Inland Real Estate Group, LLC and its affiliates since their inception and is one of the four founding principals. He is a Vice Chairman, Executive Vice President and General Counsel of The Inland Real Estate Group, LLC. In his capacity as General Counsel, Mr. Baum is responsible for the supervision of the legal activities of The Inland Real Estate Group, LLC and its affiliates. This responsibility includes the supervision of the Inland Law Department and serving as liaison with outside counsel.
Career Summary
Following his graduation from Northwestern University School of Law in 1967, and while awaiting his bar examination results, Mr. Baum took a teaching position in the Chicago Public School System where he met three other teaching associates who together with him became the founding principals of Inland. In 1968, he began his practice of law with a private law firm in Chicago where he practiced labor and real estate law and served as Inland's outside counsel. In January 1973, Mr. Baum joined Inland on a full-time basis as its General Counsel, a position he has held since that time.
Mr. Baum has been admitted to practice before the Supreme Court of the United States, as well as the bars of several federal courts of appeals and federal district courts and the State of Illinois. He is also an Illinois licensed real estate broker. He has served as a director of American National Bank of DuPage and Inland Bank & Trust, and has served as General Counsel and a director of Inland Bancorp, Inc., a recently merged bank holding company.
Mr. Baum has served as a member of the North American Securities Administrators Association Real Estate Advisory Committee and as a member of the Securities Advisory Committee to the Secretary of State of Illinois. He is a member of the American Corporation Counsel Association and The Private Company General Counsel Group. He has also been a guest lecturer for the Illinois State Bar Association and the Northwestern University School of Law.
In 2019, Crain's Chicago Business honored and recognized Mr. Baum in the publication's first annual listing of Notable General Counsels.
In 2023, the Illinois Real Estate Journal awarded Mr. Baum with its Lifetime Achievement Award.
Public Service
Mr. Baum is a member of the Board of Trustees of Window to the World Communications, Inc., Chicago's premier public media organization that creates and presents unique content for television (WTTW, Channel 11), radio (WFMT, 98.7 FM) and digital media.
Mr. Baum is also a Lifetime Trustee and has served as a member of the Board of Directors of Wellness House, a charitable organization that helps cancer patients and their families and close relationships improve the quality of their lives by providing programs emphasizing emotional support and information as a vital complement to medical treatment, all for no charge. He is also a Governing Member of the Chicago Symphony Orchestra and has supported the CSO's Civic Orchestra of Chicago by underwriting scholarships for its keyboardist position. In addition, Mr. Baum was named a Paul Harris Fellow by The Rotary Foundation of Rotary International. He is also a past member of the Men's Council of the Museum of Contemporary Art in Chicago.