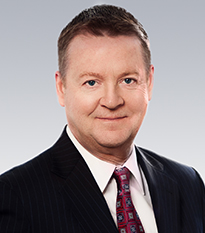 NIALL BYRNE
President
Inland Investment Real Estate Services
Niall Byrne is the president of Inland Investment Real Estate Services ("IIRES"), the real estate management division for real estate investment programs sponsored by Inland Real Estate Investment Corporation ("Inland Investments"). Byrne is responsible for IIRES's property management for Inland Investments, Inland National Development Corporation and Inland Institutional Capital Partners which totals approximately 450 properties across 44 states comprised of 30 million square feet and more than 11,000 apartment units along with 375 employees.
Prior to joining IIRES, he worked for Retail Properties of America, Inc. (NYSE: "RPAI"), where he worked as executive vice president and president of property management. He was responsible for all aspects of property management, oversaw leasing and marketing, and was involved in development, acquisitions/dispositions, asset management, joint venture initiatives and expanded the company's national retailer relationships. Prior to joining RPAI, Byrne served as vice president of asset management at American Landmark Properties. During his career, he also has held positions with Providence Management Company, The Habitat Company, The Balcor Company and Thomas Havey and Company.
Byrne received his Bachelor of Science degree in Accountancy from DePaul University. He is a member of the International Council of Shopping Centers and is a Certified Real Estate Executive (CRX designation). He is also a CPA and holds a State of Illinois real estate license.