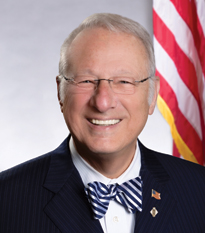 G. JOSEPH COSENZA
Vice Chairman
The Inland Real Estate Group, LLC
President
Inland Real Estate Acquisitions, LLC
Current Responsibilities
G. Joseph Cosenza is a Vice Chairman, Director and one of the four original principals of The Inland Real Estate Group, LLC, which celebrated its 50th anniversary in 2018. Joe has held his real estate broker's license since 1968, the year Inland incorporated. As Vice Chairman of The Inland Real Estate Group, LLC and President of Inland Real Estate Acquisitions, LLC, he currently supervises an extensive staff engaged in property acquisitions and due diligence. Also a consultant to other real estate entities and lending institutions, Joe has personally overseen, and/or negotiated, the purchase of more than $54 billion of income-producing real estate, in over 3,900 individual deals, of which over 700 are in the Greater Chicagoland Area.
Career Summary
Joe's one-of-a-kind, high-volume deal making has received many awards in the industry. Most recently he was inducted in the Chicago Association of REALTORS® (CAR) Hall of Fame at the organization's 128th Inaugural Gala and the Midwest Real Estate News 2015 Hall of Fame. The Inland Real Estate Group of Companies, Inc. was equally honored by the Chicago Association of REALTORS® as the first Corporate Hall of Fame award inductee at CAR's 131st Inaugural Gala.
In addition to real estate, Joe has been prominent in the banking industry. Starting in 1982, while still operating Inland, Joe was Director of Continental Bank's branch in Oakbrook Terrace, then Chairman of the Board of American National Bank of DuPage, owned by Inland's principals. He served as a Director on the Board of Inland Bancorp, Inc. and Chairman and a Director of Inland Bank & Trust, which has multiple Chicagoland locations.
Joe earned his bachelor's degree from Northeastern Illinois University and master's degree from Northern Illinois University. Initially, he was a teacher and an assistant principal in the LaGrange and Wheeling school districts while operating Inland on a part-time basis with Messrs. Dan Goodwin, Bob Baum and Bob Parks. As a Director and member of the management committee of Inland Real Estate Corporation (NYSE: IRC), he helped to ring the New York Stock Exchange bell instead of a school bell. Joe's career also spans activity with the Chicago Association of REALTORS®, Illinois Association of REALTORS® and National Association of REALTORS®. His charity of choice is Saint Vincent de Paul Society, taking care of those in need.