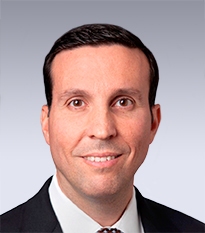 ERNEST FIORANTE
Chief Financial Officer
The Inland Real Estate Group, LLC
Ernest Fiorante is Chief Financial Officer of The Inland Real Estate Group, LLC. He is responsible for overseeing all financial activities, including financial reporting, budgeting and lender relationship management for Inland, as well as partnering with the executive leadership team on strategic planning.
Fiorante brings 25 years of experience of financial and operational commercial real estate expertise to his role. Prior to joining Inland in May 2015, he served as CFO of the Americas for Jones Lang LaSalle ("JLL") where he was responsible for directing and leading all financial activities, as well as contributing to the development of the overall business strategy. Fiorante led JLL's corporate finance team, budgeting and client accounting operations which, combined, consisted of over 800 employees. Prior to his role with JLL, Fiorante served as CFO of CalEast Global Logistics, LLC, one of LaSalle Investment Management's largest private equity clients, where he was responsible for arranging all fund level financing, accounting and budgeting. During that time, Fiorante also served on the Board of Directors for CenterPoint Properties Trust, including serving as Chairman of its audit committee.
Before moving to LaSalle Investment Management, Fiorante served as Assistant Treasurer of the JLL global organization. As Assistant Treasurer, he negotiated and managed over $1 billion in syndicated credit agreements and a EUR 165 million public bond offering. Additionally, he was responsible for JLL's $100 million foreign exchange hedging program.
Fiorante holds an M.B.A. from Kellogg Graduate School of Management at Northwestern University and a bachelor's degree from DePaul University. He is also a certified public accountant.